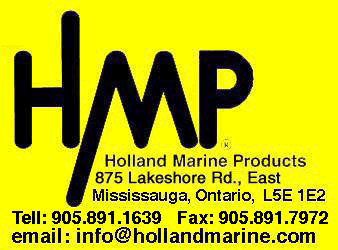 How to Find Us !
This page was last updated Nov 23/19
email: info@hollandmarine.com
website: hollandmarine.com
875 Lakeshore Rd. E.
Mississauga, Ontario, L5E-1E2
Canada
---
After 53 years we have moved out of Toronto and into Mississauga!!
Since July of 2009 we have been located in Mississauga, Ontario, Canada. We are on Lakeshore Rd. E. between Cawthra Rd. and Dixie Rd. across the street from Triton Sails. We are also in walking distance from Lakefront Promenade Marina and PCYC.
If coming from the airport take 427 south to the QEW. Take the QEW west, the next exit is Dixie Rd. Take the exit and look for the sign Dixie Rd. (you will first go north on Dixie, at the first light make a left hand turn and you will be on Dixie Rd. south). Follow Dixie to the end and make a right hand turn onto Lakeshore Rd. E. Follow this till you see our 8' x 12' yellow and black pylon sign on your right hand side, about 5 minutes. (875 Lakeshore Rd. E.) In good traffic this should take about 20 minutes.
If coming into Mississauga via the QEW take the Cawthra Rd. exit and head south (right). (there is no exit from the QEW Eastbound onto Dixie) Cawthra Rd. ends at Lakeshore Rd., make a left hand turn and look for our
8' x 12' yellow and black pylon sign on your left hand side, about 2 minutes.
From Toronto make you way to the QEW and follow the Dixie Rd. Instructions above.
HMP® CURRENT Hours of Operation
Mon-Sat 9:00am till 4:00pm


Sun...thinking of sailing, somebody has to do it!!

Copyright © 1999-2019 Holland Marine Products®. All rights reserved.