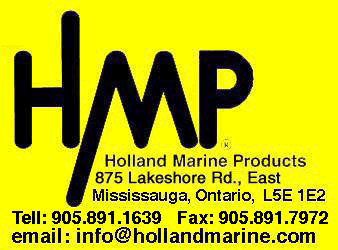 HOLLAND MARINE PRODUCTS- OUR SERVICES
---
Holland Marine Products Provides many services, from rigging to repairs. We are capable of almost anything for a boater, from sourcing parts that most can not find to custom splicing and advice on most topics.....all in house.
Services
Splicing of all rope and wire.
Halyards of all types.
Custom graphics, boat registraton numbers and names.
Custom names on ring buoys and horseshoe bouys.
Electronic repairs to most makes.
Standing rigging (Shrouds). Mast and booms.
Running Rigging. (Halyards, sheets and tackles)
Repair of polyethelene water and holding tanks.
Building of Custom water and holding tanks.
Custom deck layouts of hardware.
Custom Wheel steering systems.
Mainsail covers and Boom tents.
Genoa conversion to furling.
Winter Sail maintenance. (a few stitches now can save you $$ later)
Custom bow and stern rails.
Lifelines, stantions and bases.(custom and original)
And much more.