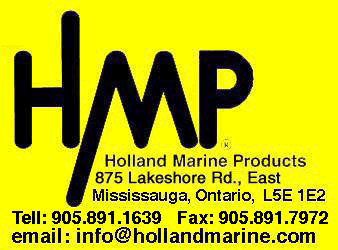 HOLLAND MARINE PRODUCTS®- BUDGET MARINE PAGE ONE
Budget marine Page 1 ,Page 2 ,Page 3,Page 4 ,Page 5 ,Page 6
ALL PRODUCTS ON THIS PAGE ARE NEW AND ARE BEING LISTED AT DISCOUNT FINAL CLEARANCE PRICES. ALL PRODUCTS ARE NAME BRAND PRODUCTS IN NEW CONDITION. ALL PRICES ARE IN CANADIAN DOLLARS .
---
Buck Alagonquin Strainer #RSS-655 $119.00
RECTANGULAR SCOOP STRAINER cast bronze with slide out removable screen.
10-1/2" long x 4-5/8" wide
Max Thru Hull: 2-1/2"
Open Area: 8.12" sq.
---
....
30 AMP time delayed transfer relay. 2 pole disconect. For Automatic switch over of power sources, such as generators or inverters.
Made by Todd Engineering.
#TS-30 $ 130.00CDN
---
WORKS GREAT IN SALT WATER......ONLY $5.99
---
..........
...
for all types of windsurfers....lashes to the mast and gives an accurate wind direction.
WINDEX SURF WIND INDICATOR ONLY $19.99
---
NAVTEC HYDRAULIC CYLINDer.
#A850-VC-010
(not actural picture)

---
PADDED HIKING STRAP FOR LASERS, ETC.
$ 9.99
---
WE WILL BE LOADING ITEMS SHORTLY. FROM HARKEN TO RONSTAN......SEARAY, CS, C&C, WHO KNOWS WHAT YOU WILL FIND HERE!
WAIT AND SEE....COMING SOON.
Budget marine Page 1 ,Page 2 ,Page 3,Page 4 ,Page 5 ,Page 6