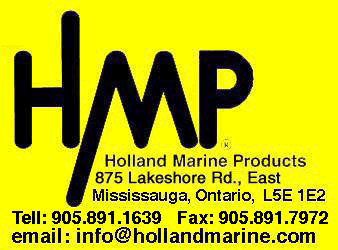 HOLLAND MARINE PRODUCTS®- BUDGET MARINE PAGE FIVE
ALL PRODUCTS ON THIS PAGE ARE NEW AND ARE BEING LISTED AT DISCOUNT FINAL CLEARANCE PRICES. ALL PRODUCTS ARE NAME BRAND PRODUCTS IN NEW CONDITION. ALL PRICES ARE IN CANADIAN DOLLARS.
---
New Bronze Gate valves 3/4" special price $14.00cdn each.
New Bronze Gate valves 1-1/4" special price $15.00cdn each.
New Bronze Gate valves 1-1/2" special price $18.00cdn each.
---
RC Marine Zytle ball valve. 2" Regular $99.99, special $69.99cdn (while supplies last)
---
Jabsco teflon seated ball valve. 3 way valve. Bronze construction with stainless handle. This is an excellent valve.
Apollo valve #45580-0150 $ 125.00cdn
---
Solar Powered Knotmeter
Simply epoxy the transmitter to the bottom of the hull and the receiver in side the boat. The only limitation is that the receiver and transmitter must be no further the 1' apart. The display has a large readout and good visibility in sunlight. This will be great for lasers, windsurfers, and other small boats, sail or power. The transmitter has a paddle wheel that generates electricity and transmits it to the receiver. The receiver has solar cells which generate electricity to power the receiver and display. It does work in low light as well. $63.99cdn
---
Stainless Deckfiller by Easy Marine. Closes effectiveyly and can be opened without difficulty using a standard winch handle or filler key. This deck filler has no thread, but it has a bayonet lock, which is secure under all conditions. The cap is made of delrin, and has an oil-proof synthetic rubber seal. #22728-38 fuel.
Was $39.99, now clearout for $19.99cdn. each
---
Budget marine Page 1 ,Page 2 ,Page 3,Page 4 ,Page 5 ,Page 6