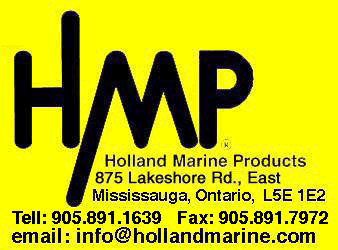 Now abailable only at HMP®
Click on a Picture to enlarge.
These tanks were used on many canadian built boats, such as Most C&C Yachts, Northerns, Viking 33, and many other boats. This was a very common tank. We can supply with fittings in any position, water or holding tank. (horizontal or vertical). As seen in the picture (horizontal) 10" high x 21" wide x 23" long. 13 us gal.

click on the images.
Our mission is to supply you the boater with the best supplies and service that a family business can....personally...we are boaters (second generation HMP®) with the third generation beyond opti's already! We have built boats, rigged them, sailed them, and repaired them.
This site contains limited-time sale items, special buys and items at our regular everyday best prices. All prices on this website are in Canadian dollars. We look forward to filling your boating needs.
"We ship anywhere, anytime."
Copyright © 2006-2021 Holland Marine Products. All rights reserved.