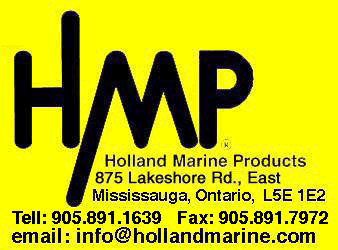 HOLLAND MARINE PRODUCTS®- BUDGET MARINE PAGE THREE
Budget marine Page 1 ,Page 2 ,Page 3,Page 4 ,Page 5 ,Page 6
ALL PRODUCTS ON THIS PAGE ARE NEW AND ARE BEING LISTED AT DISCOUNT FINAL CLEARANCE PRICES. ALL PRODUCTS ARE NAME BRAND PRODUCTS IN NEW CONDITION. ALL PRICES ARE IN CANADIAN DOLLARS.
---
Refrigeration dual coil holding plate. Stainless construction. One only $500.00 cdn (about $375.00US)
---
Vetus doorlock #DRLOCK $24.99 CDN
---
The first sheet jammer is a ronstan and is good for up to 1/2" #web01234 $49.99 CDN
The second jammer is also a ronstan and is good up to 3/8" #web0123 $44.99 CDN
The last is our own econo sheet jammer 5/16" to 9/16" #045010 only $14.99 CDN!
---
Spar Stabilizer.
Enables boat to plane at a lower speed, less h.p. required, save on fuel! Made of Marine aluminum alloy-anodized. Installs easily on cavitation plate of outboard. Eliminates porpoising of boat and lifts stern of boat for smoother ride. For motors to 65 h.p. Model #100 $19.99 CDN
---
Spar Stabilzer. Similar to above but 65 H.P.to 115 H.P.
#101 $ 19.99CDN
---
Spinlock Organizer. 6 Sheeve only $70.00 CDN
---
Winch Handle. This is a solid cast stainless 10" winch handle. Will fit all winches. This is a heavy duty winch handle cast in 316 stainless. Avery nice product.

We have 6pcs availble at $ 79.99
---
Budget marine Page 1 ,Page 2 ,Page 3,Page 4 ,Page 5 ,Page 6