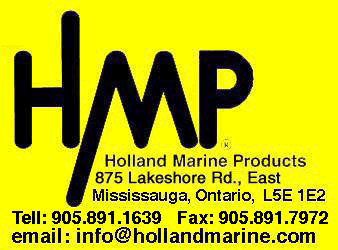 HOLLAND MARINE PRODUCTS®- BUDGET MARINE PAGE FOUR
Budget marine Page 1 ,Page 2 ,Page 3,Page 4 ,Page 5 ,Page 6
ALL PRODUCTS ON THIS PAGE ARE NEW AND ARE BEING LISTED AT DISCOUNT FINAL CLEARANCE PRICES. ALL PRODUCTS ARE NAME BRAND PRODUCTS IN NEW CONDITION. ALL PRICES ARE IN CANADIAN DOLLARS.
---
CL216. Clamcleat. Heavy duty for 1/2" to 1" line $15.99 (reg. $29.99)
---
CL202 clamcleat. For 2 lines 1/4" to 3/8"dia. $9.99ea
---
LEWMAR 5X12 off white trim ring. $45.00
We also have larger sizes.
---
Merriman Yacht Specialties guard top plate. $ 119.00ea (canadian dollars)
---
HMP 14" cleat
Solid cast 316L stainless cleat, mirror polished...have to see this one to appreciate it. $145.00ea
---
Edson rudder stop. $ 45.00
---
stainless pot muffler. $100.00
---
Budget marine Page 1 ,Page 2 ,Page 3,Page 4 ,Page 5 ,Page 6